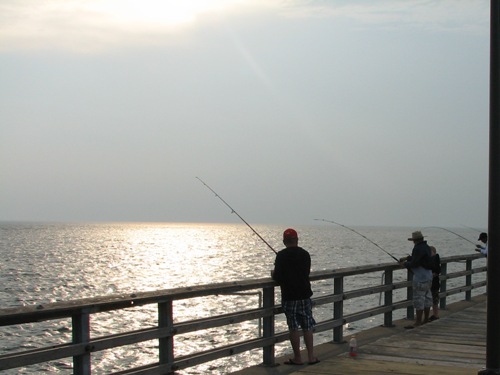 Fall is one of the best times to visit a saltwater fishing pier in Virginia. Many of the top fishing piers of the Mid-Atlantic Coast are found in Virginia. These include several Chesapeake Bay and Atlantic coastal fishing piers.
On the Eastern Shore, anglers can fish from the Saxis Pier, Occohannock Pier, and the Kiptopeake State Park pier. Mid-way between the eastern and western shore is the Sea Gull Pier, located on the Chesapeake Bay Bridge Tunnel. On the Western Shore, Chesapeake Bay fishing piers include the Ocean View, Buckroe Beach, and James River piers. Oceanfront piers include the Lynnhaven, Virginia Beach and Sandbridge (Little Island) piers.
On most Virginia fishing piers, anglers fish with bottom rigs and baits such as bloodworms, squid strips, pieces of shrimp, cut peeler crab, mole crabs or the newer synthetic baits. Several piers feature T sections where anglers fish live baits for cobia, king mackerel, sharks, striped bass or other species.
During the fall, much of the fishing effort focuses on catching spot, croaker, bluefish, striped bass, tautog, flounder and sea bass, all species that arrive in schools as they begin migrating out of the Chesapeake Bay.
For catching smaller species such as spot and croaker, no special tackle is needed. A simple medium class spinning or baitcasting outfit and top and bottom rigs will catch most fish. For more intense fishing, pier specialists bring not only a favorite rod and reel but often arrive with a special pier cart or wagon, which carries rods, cooler, bait and other essentials. These pier carts allow fishermen to quickly set up as well as making the end of day pack up go a little easier.
Weather, tides and time of day can be a big factor on Virginia's fishing piers. Wind and tides can dictate which side of the pier will be fishable. Some piers allow night fishing, which can sometimes be productive. When fishing a pier for the first time, its a good idea to all ahead if possible or talk to one of the regulars. Fishing regulations vary, so its a good idea to check with Virginia Marine Resources Commission before visiting a saltwater fishing pier.
As temperatures drop and the days grow shorter, a few anglers continue fishing as long as striped bass (rockfish) are caught from local piers.