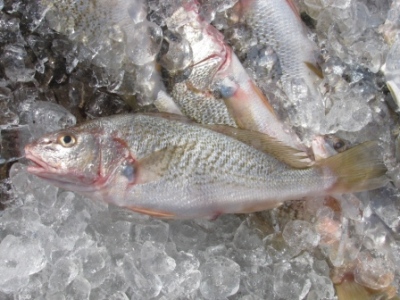 The Atlantic croaker, sometimes known as hardhead, is one of the most popular saltwater fish caught in Virginia. These hard fighters are sometimes caught in great numbers by anglers fishing in the Chesapeake Bay and along the Virginia coast.
Croakers range from about 10 inches up to monster fish of several pounds. In most areas, keeper croakers fall in the 14-24 inch range. These fish are silvery in color with metallic flecking along their flanks. Croakers have a sharp spine on each gill plate. Their body shape is very similar to their larger cousin, the red drum or redfish.
Virginia fishing piers are famous for their croaker runs. Piers along the Chesapeake Bay and coastal beaches are especially productive. Along Virginia's Atlantic Coast, the Virginia Beach and Sandbridge piers are good areas for catching croakers. In the Chesapeake Bay, there is the Sea Gull Pier, Lynnhaven Pier, and piers at Buckroe Beach, Kiptopeake, Morely's Wharf, Saxis, and other locations.
Croaker are also caught in the major rivers, with the James River fishing pier being one of the popular spots.
In addition to fishing piers, several jetties and sea walls along inlets are known to be good spots to catch croaker. In Virginia Beach, Rudee Inlet and Lynnhaven Inlet are popular spots for catching croakers.
Croakers are also caught while surf fishing. In Virginia, beach access can be found at Sandbridge, Virginia Beach and Assateague Island.
In Virginia, a wide range of head boat operators, charter boat captains and fishing guides offer croaker fishing trips. Some of the best places to go croaker fishing in Virginia include Point Lookout, Reedville – Northern Neck, Hampton Roads, Onancock, Chincoteague, Wachapreague, Cape Charles and Kiptopeake.
For anglers that want a more individual experience, there are guided fly fishing trips in the shallows of the Chesapeake Bay. These areas of aquatic grasses and other structure offer some of the best croaker fishing in Virginia.