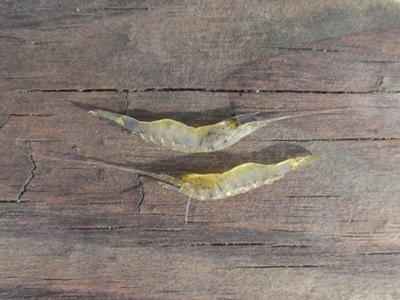 Grass shrimp are a popular bait for catching bottom feeders such as spot, croakers and white perch. Although used less frequently to target larger fish, grass shrimp can be highly effective on speckled trout, puppy drum, striped bass, flounder, and other species.
Although these tiny baits are sometimes difficult to obtain, grass shrimp provide a much needed edge when fishing conditions are challenging. In Virginia, grass shrimp occur in saltwater to brackish bays, creeks, and rivers. In many areas, they are an important food source for a wide range of fish species.
Grass shrimp can sometimes be caught on site. In some areas, grass shrimp congregate along rocks, pilings, bulkheads, or other structures. A long-handled dip net can be especially useful for dipping up shrimp around man-made structures. Grass shrimp also occur along shallow areas of shoreline. In these areas, a small seine can be effective for gathering grass shrimp.
When live shrimp are not available, frozen bait may be an option. In some areas, frozen grass shrimp are available from bait and tackle shops. Some of most productive areas for fishing grass shrimp include fishing piers, channel edges, feeder creek mouths, and submerged shellfish beds.
To fish grass shrimp effectively, small hooks are required. The simplest rig for fishing grass shrimp is a standard top and bottom rig. In shallow areas, live grass shrimp can be fished under a popping cork or other float. Another effective rig is a down-sized Carolina rig. Carolina rigs are especially effective for slowly drifting shrimp over an area of productive bottom.
One of the most popular techniques for fishing grass shrimp is to combine them with small jigs. Whole live grass shrimp or shrimp tails can be threaded onto shad darts or other small jigs. Some anglers use tandem jigs when fishing grass shrimp. Tandem-rigged jigs have a number of advantages. They can be used for fishing two different baits on a single outfit. The extra weight of tandem jigs is also useful when fishing deep or fast moving water where a lighter lure might be ineffective.
Like other saltwater baits, grass shrimp are most effective when they are a major food source for hungry fish. These events are often dictated by seasonal events or other factors. When game fish are actively feeding on these tiny crustaceans, grass shrimp are often seen jumping out of the water. In these situations, live baiting grass shrimp can result in non-stop fishing action.