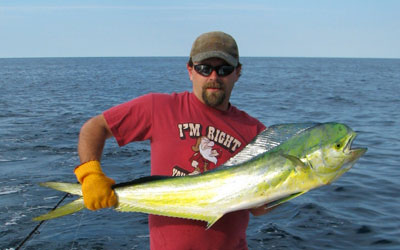 The dolphin, also known as dolphinfish or Mahi Mahi, is one of Virginia's most popular offshore fish species. Along the Virginia Coast, dolphin are caught from May thru October using a variety of techniques.
Dolphin are known for their brilliant coloration, which includes an array of hues from deep greens to brilliant yellows, with turquoise blue spots. Large individuals are known as gaffer dolphin while smaller fish are called peanuts. Recognized by their blunt foreheads, large males are known as bull dolphin. Adult females of the species are known as cows.
During the early season, dolphin are usually found far from shore along offshore temperature breaks in waters as deep as 1000 fathoms or more.
By summer, schools of dolphin move inshore, within range of smaller boats. During this period, dolphin often orient to surface structure including buoys, commercial fishing gear, and floating objects.
Much of the fishing is done around lobster trap buoys (balls) that follow the offshore canyon walls. Similar opportunities exist inshore, although they are often overlooked. Dolphin sometimes take up residence around floating objects as close as 15 miles off the coast.
In addition to structure-oriented fishing, fishermen may encounter dolphin in almost any location where food is available. They are often caught together with tuna on inshore lumps or other hotspots.
As fall approaches, Virginia's offshore fishing season begins winding down. Despite unpredictable weather and sporadic catches, the fall season often includes spectacular catches of dolphin.
Dolphin Fishing Techniques
Dolphin are somewhat unique in feeding behaviors. They can be aggressive feeders one minute and passive the next.
Dolphin can sometimes be enticed to bite by chumming with small pieces of silversides, butterfish, squid, or fresh-caught fish. Once fish are attracted, a small piece of bait rigged on an unweighted circle hook may be all that is required.
Casting lures can be effective for enticing reluctant dolphin to bite. Popular lures for casting include flashy spoons, soft plastics, surface poppers, and plug. Flies can also effective, especially flashy, bright colored patterns.
When schools of dolphin circle the boat but seem uninterested in surface-presented lures, vertical jigging can be an option. This technique can yield results, especially if gaffer dolphin are lurking below a large school of peanut dolphin.
One popular technique is to leave hooked fish in the water at boatside until a second angler hooks a fish. This process can be repeated as anglers rotate positions casting and landing fish.
When fishing weedlines, trolling is an effective technique for locating schools of dolphin and other pelagic species. Although the techniques are similar to tuna fishing, the use of downsized gear is often worth the extra effort.
Popular trolling choices for dolphin include rigged ballyhoo, mullet, or other natural baits. To entice wary fish, baits should be rigged as light as possible. Although small, shiny skirts are often added, naked ballyhoo also produce well when trolling along weedlines, debris, or other surface structure.
Once a school of dolphin are located along a weedline, a captain will sometimes shut down the vessel so that angers can pitch lures or baits to fish. Being alert in these situations can pay off as other species may appear among the feeding dolphin including tuna, wahoo, cobia, sharks, and other game fish.
Related Information