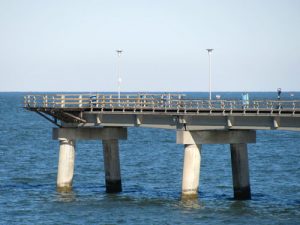 The Sea Gull Fishing Pier on The Chesapeake Bay Bridge – Tunnel's first Island will be closed to the public during the construction of new parallel tunnel at the Thimble Shoal Channel. The Thimble Shoal Channel tunnel project is expected to take approximately five years.
Current plans call for the pier to close in the fall of 2017 and re-open to the public in 2022. The pier will be renovated as part of the project.
The existing restaurant and gift shop near the pier will be demolished, according to the Chesapeake Bay Bridge and Tunnel Commission.
An iconic stop, the Sea Gull Pier is popular with fishermen, birdwatchers, photographers, nautical enthusiasts, and others.
The Sea Gull Pier is located in the Chesapeake Bay, approximately 3 miles from the Eastern Shore of Virginia. The pier is famous for its fishing, with anglers catching spot, croaker, bluefish, flounder, sheepshead, spadefish, Spanish mackerel, and other species.
The original plans for the renovation included the widening of the man-made islands 250 feet to the west of the existing islands to provide physical space for either an immersed tunnel or bored tunnel to transition to the existing trestle alignment of the CBBT.
Jeff Holland, Executive Director of the CBBT, explained the project, saying:
"The Project was originally envisioned with a substantial expansion of the portal islands. As such, the expanded southern island would have created space for the future public amenities at little additional cost. When all of the teams competing for the Project focused on reducing cost, it became apparent that island expansion could be very limited or non-existent. As a result, the inclusion of the space sizing for the public amenities of a restaurant, retail shop and 200 additional parking spots that would otherwise require substantial island expansion became cost prohibitive and not necessary to meet the basic mission of the CBBT: providing the traveling public with a safe, cost effective, and unique driving experience across the scenic Chesapeake Bay. This scope change, combined with others, allowed the Commission to substantially reduce the cost of the Project by nearly $260 million from the low price received during the first phase of design-build proposal prices."
source: Chesapeake Bay Bridge and Tunnel Commission