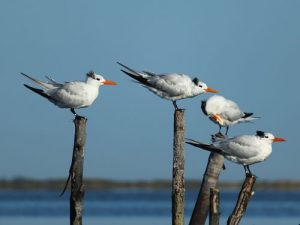 The latest Chesapeake Bay Foundation State of the Bay Report rated the estuaries' over health higher, with an overall score of 34 (C-).
The CBF report cites continued implementation of the Chesapeake Clean Water Blueprint and below average rainfall as factors that contributed to bay health.
The annual State of the Bay Report is a comprehensive measure of the Bay's health.
CBF scientists compile and examine the best available data and information for 13 indicators in three categories: pollution, habitat, and fisheries. CBF scientists assign each indicator an index score from 1-100.
Nine of the 13 indicators improved and overall each of the three categories also showed improvement. In the pollution category, toxics comprised the only pollution indicator that did not improve.
In the habitat and fisheries categories, underwater grasses, striped bass, blue crabs, oysters, and shad showed improvements for 2016.
Wetlands, and resource lands indicators were unchanged, and the only indicator to decline was forest buffers.
According to CBF, Virginia and Maryland are largely on track to achieve their 2017 mid-term goals while Pennsylvania is significantly behind.
source: Chesapeake Bay Foundation