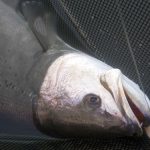 In early January, 2018, unseasonably cold temperatures resulted in cold stun events and mortality of speckled trout stocks in Virginia, North Carolina, and other states along the Atlantic Coast.
Virginia
In February, The Virginia Marine Resources Commission (VMRC) Board considered the possibility of emergency regulations for speckled trout.
Discussions included recreational anglers and other stakeholders, including the potential for emergency regulations following recent cold stun effects on speckled trout. During the meeting, stakeholders spoke for and against potential closures or other regulations.
The Board declined to curtail recreational speckled trout season or catch limits, noting the lack of science to show whether management changes would have any impact on the stocks.
Current speckled trout regulations are available at the Virginia Marine Resources Commission website.
North Carolina
In January, the North Carolina Division of Marine Fisheries (NC DMF) closed all coastal and joint waters to commercial and recreational spotted seatrout harvest due to widespread cold stun events. The spotted seatrout season will remain closed until June 15, when it will reopen by proclamation.
Under the N.C. Spotted Seatrout Fishery Management Plan, if a significant cold stun event occurs, the Division of Marine Fisheries will close all spotted seatrout harvests until the spring.
The North Carolina Wildlife Resources Commission automatically closes spotted seatrout season in inland waters when it closes in adjacent coastal waters.
Cold stuns are natural events that occur when there is a sudden drop in water temperature or prolonged periods of cold weather. Studies suggest that cold stun events can have a significant impact on spotted seatrout populations, according to NC DMF.
sources: Virginia Marine Resources Commission, North Carolina Division of Marine Fisheries