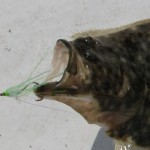 At its March, 2018 meeting, the Virginia Marine Resources Commission (VMRC) established a 16 1/2-inch minimum size limit for the 2018 recreational summer flounder fishery in Virginia waters.
Previously in 2017, the minimum size for summer flounder (recreational fishing) in Virginia was 17 inches.
In other actions, VMRC established new commercial restrictions related to cobia, set the 2018 recreational cobia season, and eliminated the prohibition on gaffing cobia (recreational fishing).
source: Virginia Marine Resources Commission