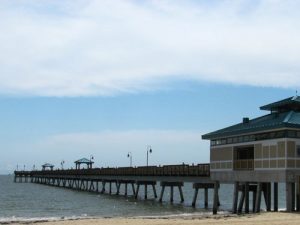 The James T. Wilson Fishing Pier and property, including the adjacent pier ramp, remain closed to the public after a loose barge crashed into the 709-foot pier in November, causing heavy damage to the structure.
After the collision, engineers worked to assess the extent of damage to the popular pier, according to the city.
The assessment showed the first two sections of the pier closest to the restroom and bait shop building had collapsed. Two of the pilings supporting the northeast corner of the building were missing, and another was damaged.
Initial work was completed in January, which stabilized the fishing pier and repaired damage to the observation pier.
After extensive repairs, the James T. Wilson Fishing Pier reopened in October 2020. New protocols related to the COVID-19 pandemic are in place for the remainder of the 2020 fishing season.
For more information, visit the City of Hampton Virginia website (www.hampton.gov).
source: City of Hampton Virginia