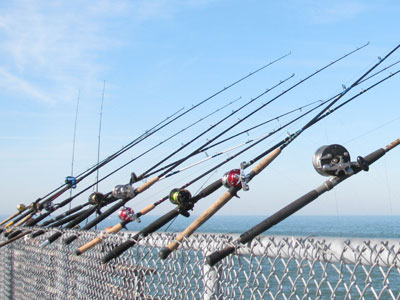 Pre-season maintenance is necessary to keep rods and reels, tackle, and other gear in working condition. This article describes a few basic saltwater fishing equipment maintenance tasks that should be addressed between the end of year and spring before the next fishing season begins.
Rods and Reels
Often overlooked, fishing rods require just a few simple checks before beginning the fishing season. Rod guides and tips should be checked for cracks, broken components, or excessive corrosion. Reel seats should also be cleaned and moving parts should be exercised and lubricated.
Fishing Tackle
Tackle is prone of a variety of problems, most of which can be dealt with easily. A useful first step is to gather and sort tackle from the previous season. Hooks, leaders, lures, and other tackle that has excessive damage or corrosion should be disposed of. The remaining tackle can be washed, dried, sorted, bagged, and organized.
Once an assessment and maintenance of existing tackle is complete, its a good idea to make of list of items that are missing. A pre-season tackle stock up is usually required. After obtaining necessary tackle, everything can be organized and stored.
Other Gear
Nearly every fishing accessory needs inspection and routine maintenance before beginning the fishing season. Pliers may require cleaning and lubrication. Knives usually need to be cleaned and sharpened. Coolers must be cleaned and inspected. Pier or surf carts may need a wash and checkup before use. For anglers that keep a bait freezer, late winter or early spring is good time to defrost, clean, and restock. Portable electronics, lights, and other devices will need to be cleaned, inspected and batteries recharged or replaced. Items such as sunblock and insect repellent may need to be replaced.
Regulations – Permits – Reporting
Before the season begins, anglers will need to review fishing regulations. In addition to a Virginia saltwater fishing license, anglers may need to acquire Federal or state species-specific permits. Some fisheries also have reporting requirements which involve e-reporting apps or other technology. For more information, visit the following page: Virginia Fishing Regulations.