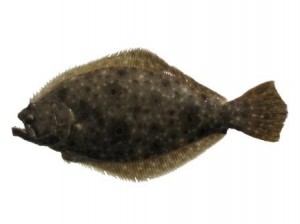 For many anglers, Spring flounder fishing along the Eastern Shore of Virginia is an annual event that marks the beginning of the saltwater fishing year. As waters warm, flounder enter and begin to feed in the inlets, creeks and coastal bays of the region.  A few flounder sometimes arrive in March but the main thrust of fish is usually in April, with the surge of incoming fish continuing into May.
Spring time flounder fishing success in Virginia is dictated factors such as by wind, water temperature and water clarity. A basic rule of thumb is that flounder start biting when water temperatures reach 50 degrees, with the best springtime fishing usually in water between 60 and 70 degrees.
Experienced flounder anglers seek conditions when the tide will be high in the mid morning thru afternoon hours. The theory is that the cold ocean water comes in and flows up onto the flats were the sun can warm it a significant amount in just a few hours. When the tide changes, warmer water flows into the channels, triggering the flounder to feed aggressively. This phenomenon doesn't always happen but when conditions are right, flounder fishing can be excellent.
Top baits for spring fishing include several of the natural prey species of summer flounder. These include frozen silversides, live minnows, squid strips and fresh cut strips of fish if available. Favorite fish for making cut strip baits include small croakers, perch, bluefish or other suitable fish. Finding these species in the early season is not easy, but some anglers set aside catches of early season fish specifically for use as flounder strip baits.
Related Links
Baits and Rigs for Catching Flounder
How to Clean and Fillet Flounder